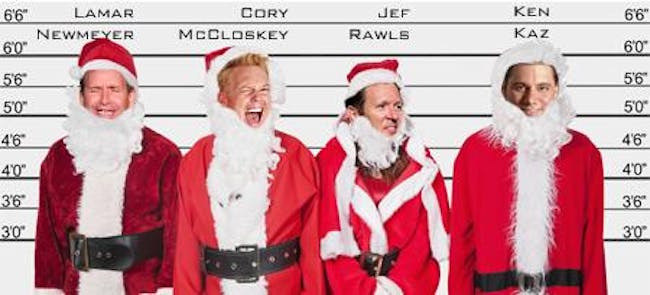 Just in time for Christmas 2018....JesterZ presents: 2 hours of fast paced, nonstop side-splitting STAND UP clean comedy, featuring Cory McCloskey with Lamar Newmeyer, and Ken Kaz with Jef Rawls as your host.
This may be the FUNNIEST night of your life! Don't miss it!
Cory McCloskey
News Achor, and funny weather man
If you think Cory McCloskey has a familiar face, you'd be correct!  Many Phoenicians have awakened to find his mug staring at them and giving yet another "it's gonna be hot" weather report on FOX10 Arizona Mornings.
He has appeared at the Tempe Improv, Rick Bronson's House of Comedy, Stand Up Scottsdale, The Comedy Spot and he nearly disabled the internet recently with his hilarious response to a weather map gone bad…  (watch it HERE)
Ken Kaz
After ten years of performing comedy, Ken has been fortunate enough to work alongside some of the biggest names in the business including Dennis Miller, Paul Rodriguez, and Bob Marley (the comedian not the singer). He has entertained Fortune 500 companies such as Pepsi, CIGNA Healthcare and Abbott Labs. Today he has established himself as one of the most versatile professional comedians working in the business today…however, he is still a subpar accountant!
Lamar Newmeyer
Actor, Comedian, Writer - Jester!
NO SMUT HERE! Lamar hails as one of comedy's cleanest and funniest up-and-coming performers. Lamar's unique style draws on his variety of talents. He mixes voices, impressions, physical comedy and a quick wit to create an impressive performance.
Lamar is originally from Phoenix, Arizona. Growing up in the late 60's and early 70's provides him with plenty of comedic material that many audiences relate to. He often revisits the past from a kids point of view. Lamar also finds much to make us laugh in contemporary society. He finds humor in the most seemingly benign situations such as grocery shopping or setting an alarm clock.
Lamar's diversity is the result of his comic, acting, and stunt work, yes stonework.  He has appeared in feature films as well as many made-for-T.V. movies and performed in comedy clubs in across the country.
Lamar brings over 25 years of stand-up comedy to the stage! Performing across the country from the Laugh Factory in Los Angeles to the Tempe Improv right here in our very own backyard. Lamar has open for such notable comedians as Joan Rivers, Brian Regan, Gallagher, Ken Kaz and many, many others.
Jef Rawls
Emcee, Actor, Comedian, Owner JesterZ 

Since 1996, Jef has entertained audiences across the country!  With over 5,000 improv comedy shows to his name – Jef brings on-the-spot comedy as host.  ABC15's Emmy Award winning morning show "What's Up" would not be the same without Jef as HOST.  He is producer and HOST of both All-Comedy Radio's "Breakfast Epiphanies" and the soon to be released "Inside The Laughter Studio" show with guests Dick Van Dyke and Sean Astin.  Jef brings his 22 years of experience on stage, TV, film and radio to each performance.

As a coach of improv comedy, Jef has assisted thousands of students to find their comedic voice!  Plus, I'm confident you'll hear a story or two that only a father of 6 can share.

Venue Information:
JesterZ Improv
1061 North Dobson Road
#114
Mesa, AZ, 85201