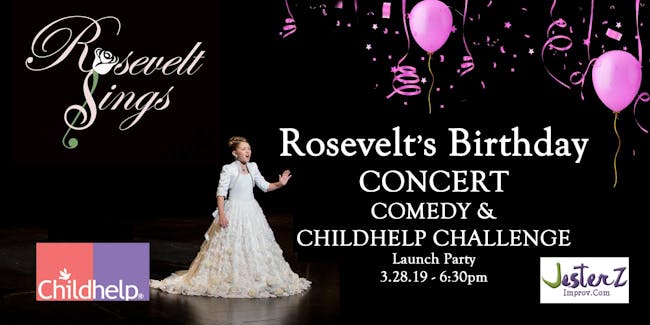 Childhelp Ambassador, Rosevelt Sings invites you to her 12th birthday: Concert, Comedy & Challenge launch party.   Who is Rosevelt?  Click to watch Rosevelt Sings YouTube videos.
This event is FREE to family, friends, fans and the community!  
Come enjoy a CONCERT with Rosevelt!   The last three times Rosevelt was on the JesterZ stage she was accompanied by Cory McCloskey (Fox 10), Evie Clair (America's Got Talent) and Lindsey Stirling (Dancing With The Stars).  Who knows who will show up and share the stage this time!! 

PLUS:  enjoy family-friendly CLEAN COMEDY provided by the JesterZ!! 
THE MAIN EVENT:  Be part of #RoseveltsChallenge - a nationwide social media challenge that brings awareness to the unacceptable statistic that an average of 5 children die EVERY DAY becuase of abuse or neglect.  That's #5toomany!!!    MORE INFO:  www.Childhelp.org/5toomany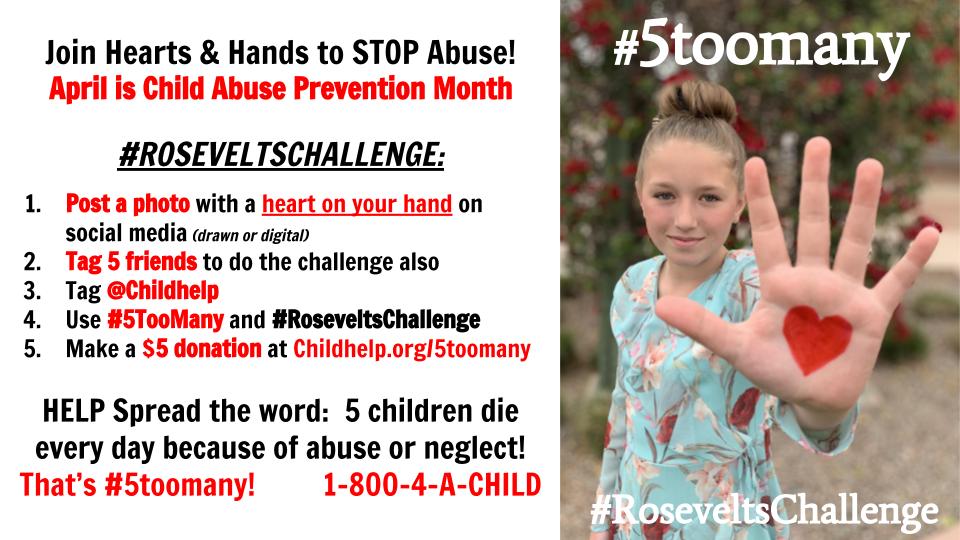 Rosevelt's Challenge invites you to post a picture with a heart in your hand, post on FB & IG, tag 5 friends to do the same and add #5toomany.   We'll continue the challenge throughout April (Child Abuse Prevention Month).
Then donate $5 at Childhelp.org/5toomany
In leu of birthday presents, Rosevelt asks you to bring a NEW, unwrapped gift to give to the children of the Childhelp Villiage in Virginia.  She'll be traveling there in April to deliver them personally.

CAKE FOR EVERYONE!
Although this is a FREE event - Reservations are Required!    We anticipate reaching theater capacity, so get your tickets now!  

Venue Information:
JesterZ Improv
1061 North Dobson Road
#114
Mesa, AZ, 85201